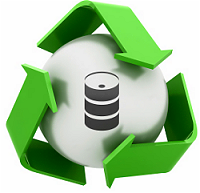 Alternative Environmental & Recycling Services is changing the automotive industry recycling business. With a new state-of-the-art facility, the most advance routing/tracking systems, and the highest used petroleum prices paid in the industry, Alternative Environmental & Recycling Services is the industry leader.
Alternative Environmental & Recycling Services personnel are dedication to the environment in all aspect of the collection, recycling, and re-marketing process. We strictly adhere to all federal and state guidelines for the transport, storage, and other related activities associated with our collection business.
We understand the importance of environmentally friendly recycling programs, because, collection is just the first step. How your used streams are handled after collection is just as important in limiting the impact on our sensitive environment. That is why we collect and recycle locally. Providing a useful recycled product, revenue, and jobs back into the our economy.
Utilizing Alternative Resource's "Best Known Methods" (BKM's), we are able to provide a truly cost effective solution to our customers requiring collection services. The results of our BKM's are higher prices paid for used petroleum, and no cost recycling, in most cases, for other recyclable used streams. Our experience and knowledge enables us to collect more recyclable products, more efficiently than any other company.
Why are we the leaders?
We are dedicated to the environment in all aspects of the recycling and re-marketing process.
Our new facility utilizes "Best Known Methods" BKM's for recycling and waste management.
Standard Operating Procedures and OSHA safety manuals ensure our customers and employee's safety.
By recycling, processing, and then selling locally recycled products back into the local markets, we are putting local personnel to work.
We provide a fair market value for the used petroleum products we collect.
We never charge our used petroleum producing customers for used oil filter or spent anti-freeze generation.
Through our partnering programs we can provide our customers with discounts on products they use every day.
Real-time routing and reporting system.
Call us today!
At Alternative Resource, recycling your used petroleum and other industry related recyclable used materials is simple. Make the call to Alternative Resource. Our friendly staff is ready to provide the best service and pricing in town, paid to you, within seven days, for your used petroleum. We guarantee that we will never charge you for the recycling of your used oil filters and spent anti-freeze like our competition. So stop treating your valuable used petroleum products as a waste, start treating them as a valuable revenue source, with Alternative Resource's comprehensive "Recycling Programs".